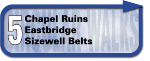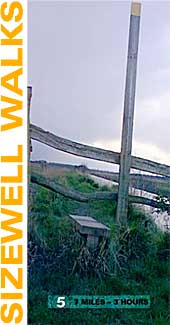 Links to Other Walks
Kenton and Goose Hill
Nature Trails
Suffolk Walks
Downloads
If you would like a copy of this walk then it is available as a PDF (Adobe Acrobat) file.

Sizewell Circular Walks – Directions
Walk 5 – Chapel Ruins • Eastbridge • Sizewell Belts
7 miles - 3 hour stroll
Chapel Ruins
This ancient stone ruin is all that remains of what was originally believed to be an Abbey founded by Lord Chief Justice Ranulph de Glanville in 1182. Itsí isolated and remote island location resulted in the Abbey being moved to Leiston in the 14th century by Robert Earl of Suffolk. The only structure remaining is thought to have been a small chapel connected with the abbey. Today it holds a World War II pillbox within its crumbling walls.
Sizewell Belts
Sizewell Belts was an unmanaged reed marsh until it was drained in the 18th Century. It is now a complex system of freshwater grazing marshes interspersed with dykes and narrow tree belts and rich in wildlife. Information boards along the waymarked route describe the flora and fauna to be seen through the seasons.