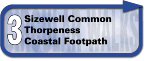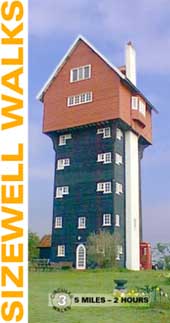 Links to Other Walks
Kenton and Goose Hill
Nature Trails
Suffolk Walks
Downloads
If you would like a copy of this walk then it is available as a PDF (Adobe Acrobat) file.

Sizewell Circular Walks – Directions
Walk 3 – Sizewell Common • Thorpeness • Coastal Footpath
5 miles - 2 hour stroll
From The Vulcan Arms, take the road towards the beach and as it turns a sharp left you will see a track leading off to the right. Walk along this track and head towards the black beachhuts. At the beachhuts you should see a caravan park at the edge of the cliffs. Walk towards this and follow the Heritage Coastal Footpath signs.
The coastal footpath leads you along the clifftops until private land forces you down to the beach. Keep walking along the beach until you see access back up to the top of the cliffs where it will lead you out onto Thorpeness Common. A path runs parallel with the coast, then onto a residential track into Thorpeness. At the road junction turn right. At the immediate next right turning a footpath sign guides you back for the return journey.
To get to The House in the Clouds, The Windmill and Thorpness Meare, proceed along the road as it bears left past The Dolphin public house. Keep walking another 200 metres and you will reach the Meare. Here you can obtain refreshments from the Meare shop, which also sells duck food for those wishing to feed the myriads of wild fowl that flock together about the Meare. A cafe is located opposite the shop, selling a vareity of foods from snacks to hot meals..
For The House in the Clouds, take the second right turning past The Dolphin, up an unpaved road. Both structures are located at the end of this road before the golf club.
To return to Sizewell take the junction as mentioned earlier, follow the footpath signs, up the track, then up by the side of the end house where the track turns right. Keep on this track for 200 metres until a footpath leads off to the left. This is not signposted! This narrow footpath leads you through a 'tunnel' of overhanging trees. Keep on this path, avoiding the branch off to the left until it junctions with a farm track. Turn right and follow this track. After another 200 metres the track crosses another farm track. Carry straight on and the track will slowly turn left and become paved. This then takes you out on to the main Sizewell road. Turn right and the pub is 200 metres onwards.