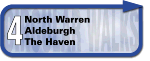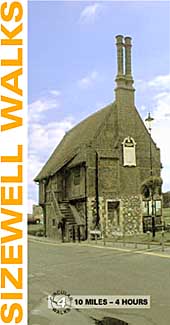 Links to Other Walks
Kenton and Goose Hill
Nature Trails
Suffolk Walks
Downloads
If you would like a copy of this walk then it is available as a PDF (Adobe Acrobat) file.

Sizewell Circular Walks – Directions
Walk 4 – North Warren • Aldeburgh • The Haven
10 miles - 5 hour stroll
From the Vulcan Arms walk towards Leiston for 200 metres, then turn left down the lane signposted to Sizewell Hall. This lane soon turns to a sandy farm track, keep wo this ignoring other footpaths either side and eventually you will meet a road. Carry on directly across the road and head down the signposted footpath. You will soon come to a brick barn, bear to the right of this, then keep bearing right along the footpath before you meet the golf course. This path takes you out in front of a house, keep to the left of the house, then turn right as you pass it where you should see an information board that welcomes you to the North Warren Nature Reserve.
Follow the path into the reserve, and keep to the path until it turns a sharp right under a copse of trees. Here to your immediate left you should see a notice 'Permissive Footpath' and a stile. Take this path and keep to it . Eventually you will come to a caravan park, walk alongside this until you meet a road. Turn right onto the road. After 100m turn left at the roundabout and follow the road into Aldeburgh.
Just past the church until you come to cross roads. Here you can either turn right which leads into Aldebrugh town centre, or go straight across and turn left at the Mill Inn for the return journey.
As you head out of Aldeburgh, keep to the footpath on the right hand side of the coastal road, this leads you through The Haven and towards Thorpeness. As you approach Thorpeness keep to the coastal side of the houses until a footpath sign leads you between the buildings and into the village. Cut across the car park, then turn right at the junction by the Gallery shop. Follow this road round ignoring the footpath signs pointing towards this beach.
When you get to a T-junction, turn right then bear left and carry on up the track marked 'Private Road' at the end of which a footpath leads you across Thorpeness Common. Keep walking parallel with the coastline, until a wall forces you down to the beach. Follow the path across the dunes and alongside the cliffs. Keep to this footpath all the way back to Sizewell.