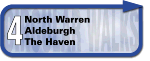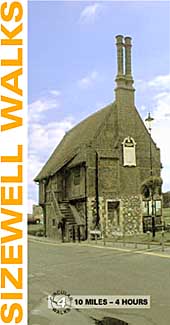 Links to Other Walks
Kenton and Goose Hill
Nature Trails
Suffolk Walks
Downloads
If you would like a copy of this walk then it is available as a PDF (Adobe Acrobat) file.

Sizewell Circular Walks – Information
Walk 4 – North Warren • Aldeburgh • The Haven
10 miles - 5 hour stroll
Aldeburgh
Aldeburgh was once an island between the Alde estuary and Thorpehithe Haven, though now it is linked to the mainland and has been greatly eroded by the sea. Originally a Roman port it was later invaded by the Saxons who gave the town its name, Aldeburc meaning old port. Edward VI granted the town a Charter in 1547 with rights to hold a Wednesday market. One of the main attractions of the town is the Moot Hall, once situated in the centre of town and the site of an open market, it was built between 1520 and 1540. It is now a museum of local history and is open daily from June - September 2.30 - 5.00pm and at weekends from Easter - May; Admission Adults: 50p; Children: Free.
North Warren Nature Reserve
This wetland was first purchased by North Warren back in 1939 and is one of the oldest RSPB nature reserves in the country. The entire reserve is managed to keep each habitat just right for the specialised wildlife which it supports. The marshes are grazed and mown for breeding waders and wintering wildfowl and sheep graze the heath.
The Haven
The Haven to the north of Aldeburgh was historically the entrance to a very active sea port and in common with many other parts locally it was eventually became landlocked as the soft coastline changed shape and new shingle bars developed. the channel linking Thorpeness Meare to the sea was finally severed during the last century.