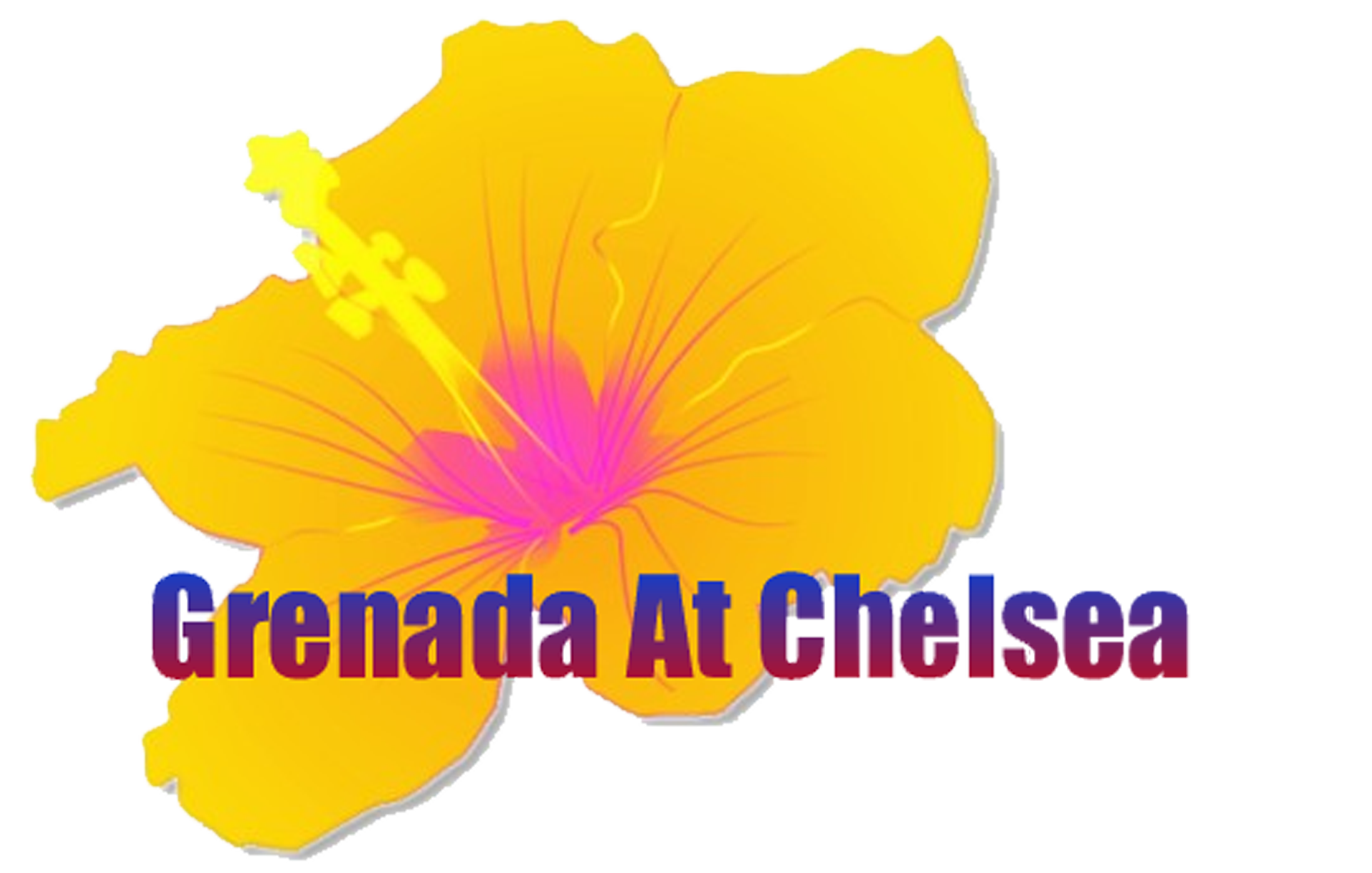 Hover here

Hit F11 to switch between full-screen & normal view
---
2014 Silver-Gilt Exhibit !!!
---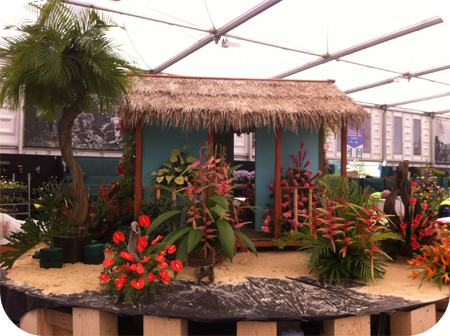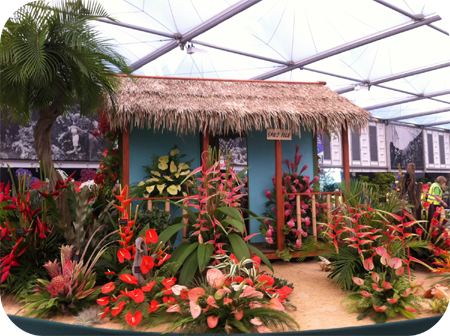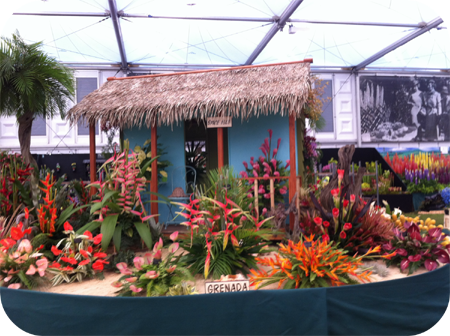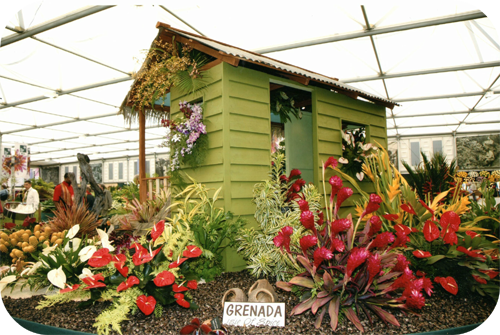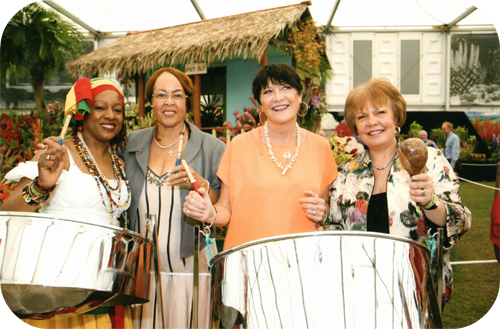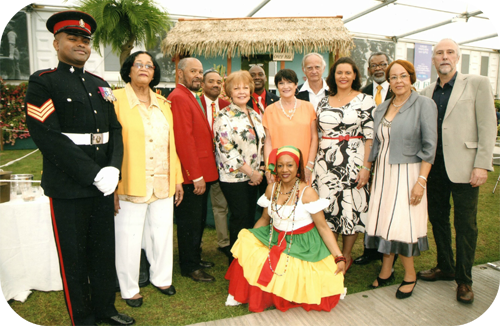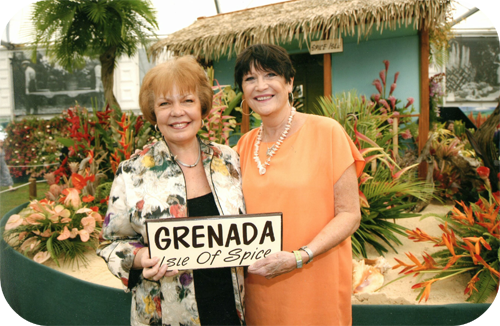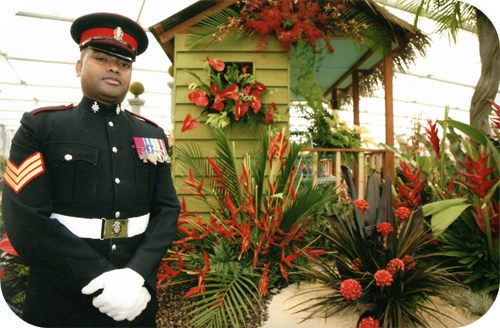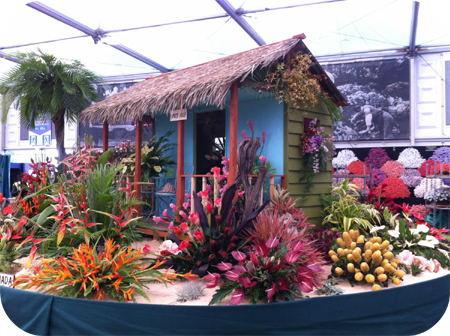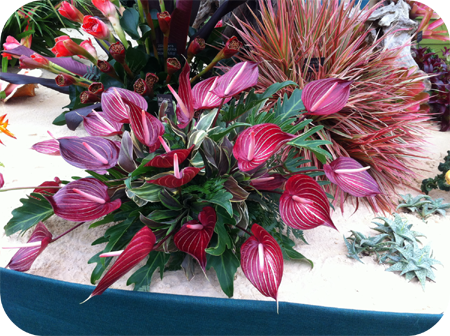 Our objective has been to promote the Caribbean island of Grenada through its participation in The Chelsea Flower Show
(Grenada is the largest of the three islands which make up the small nation of 'Grenada, Carriacou, & Petite Martinique' and is a thriving centre of commercial and private horticultural activity)
History
Over the past 17 years Suzanne Gaywood's Grenada exhibits, have successively been awarded Silver (in 1998), Silver-Gilt (in 1999 & 2000) and then Gold (in 2001, 2002, 2003, 2004, 2005), Silver-Gilt in 2006, Gold in 2007, Silver-Gilt in 2008, Gold in (2009, 2010, 2011, 2012), & Silver-Gilt in 2014

After 25 with the RHS Chelsea Flower Show including 17 years specifically designing and exhibiting every exhibit for Grenada, Suzanne has decided to step down and adopt a, well deserved, more relaxed lifestyle
With the exception of the Hurricane News page which will be maintained, this web-site will be archived from now on
The 2014 Team
Our Sponsors For 2014
Sponsorship of the exhibit was by, Grenada Tourism Authority; Peter & Lana De Savary for Mount Cinnamon & Port Louis; The Calabash Hotel; The Coyaba Beach Resort; Lanwades Stud; Seafreight Line; John & Joan Buckenham; Hyde Park Tropical Garden; Reg & Trish Scarlett; The Blue Horizons Garden Resort; Liz Tingling; & British Airways
Once again we displayed a range of beautiful native plants and spices from the Caribbean island at the 2014 RHS Chelsea Flower Show. The exhibit entitled 'Spice Isle' reflected the name by which Grenada, one of the Windward Islands, has been known worldwide for its production of nutmeg, mace and a host of other spices The focus of the stand was to show displays of whole spices, plus the exotic, spicy colours of Grenadian flora. The design highlighted the rich vegetation typical of Grenada's rainforest plants on one side and a beach scene on the other.
Click Below To Link To Picture Pages

Silver-Gilt ~

Gold
The pictures displayed will no longer be added to
---
When You Visit Grenada You'll Find...
Geography & Climate
Grenada is an island of some 344 sq km with a coastline of 121 km, located between the Caribbean Sea and Atlantic Ocean, north of Trinidad and Tobago - Its climate is tropical; tempered by northeast trade winds, with a mean temperature of 80F all year round, with a rainy season from June through December. The island's population of just under 90,000 is governed as a parliamentary democracy and with it's international airport, relies on tourism as its main source of foreign exchange.

The island is volcanic in origin with central mountains, the highest being Mount Saint Catherine 840 m. Its natural resources are timber, tropical fruit, & deepwater harbours - The capital town is Saint George's. It's agricultural products are: bananas, cocoa, nutmeg, mace, citrus, avocados, root crops, sugarcane, corn, vegetables, and it's industries are: food and beverages, textiles, light assembly operations, tourism, construction
The Plants We Have Exhibited At Chelsea
Click here to see the some of the plants we have used at Chelsea
Growing Them At Home
All the plants we've use at Chelsea can be grown in warm climates, or under glass in colder ones - You can order plants from local Grenadian growers (see Growers page) & they will be pleased to give you tips on how to get the best from your purchases
What's special about Grenada's plants?
The plants we grow in Grenada are all exotic tropicals, many of them native to the island - Visiting the rainforest areas of Grenada you are likely to glimpse hitherto unseen plants, (natural sports from existing varieties) - The plants are lush and vibrant with a range of colours to take your breath away
There are some organised garden tours available at the moment, but others are planned for the future - (See the Garden Tours page for details)
Where To Stay
There is a range of hotels on the island, and apartments are also available - By law no hotel is allowed to build more than two stories high, so no ugly skylines! - (See Links page for more sources of information on accommodation)
Getting Around
Grenada's roads have been brought up to a standard where travel around the island is relatively easy - Cars are available to rent, or you can use a taxi service to get around - The adventurous among you might want to hire a 4 wheel drive & guide and visit the inland mountain areas - Coach trips are yet another way of seeing the island and of course, you can view the island from the sea, by taking a yacht trip
Food & Dining Out
All hotels provide good dining & there are many excellent nearby restaurants - Some specialise in local dishes, and fresh caught fish is always available
Entertainment
There are a wide range of sporting activities available, including, golf, tennis, scuba diving, & sailing - There are also local events taking place at most times, including festivals, fairs, theatrical performances etc, & Carnival - (See Links page for details)