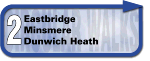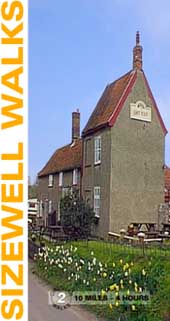 Links to Other Walks
Sizewell Circular Walk 3
Sizewell Circular Walk 4
Sizewell Circular Walk 5
Kenton and Goose Hill
Nature Trails
Suffolk Walks
Downloads
If you would like a copy of this walk then it is available as a PDF (Adobe Acrobat) file.

Sizewell Circular Walks – Information
Walk 1 – Eastbridge • Minsmere • Dunwich Heath
5 miles - 2 hour stroll
Dunwich Heath
Dunwich Heath nature reserve, now owned by the national trust, is a remnant of the wild open countryside called The Sandlings which once covered this coast. This hilly landscape covered in heather and gorse is very untypical of Suffolk and is also home to rare wildlife.
Minsmere Nature Reserve
Minsmere nature reserve was unwittingly created as a result of flooding for defence during WWII. It offers two visitor trails (2 miles each) and eight hides to give views of a wealth of wildlife, together with a tearoom and shop. The centre and trails are open daily from 9am to 9pm or dusk if earlier. (Adults £3.50; Concessions £2.50; Children 50p).